Interior Series: Edith Beurskens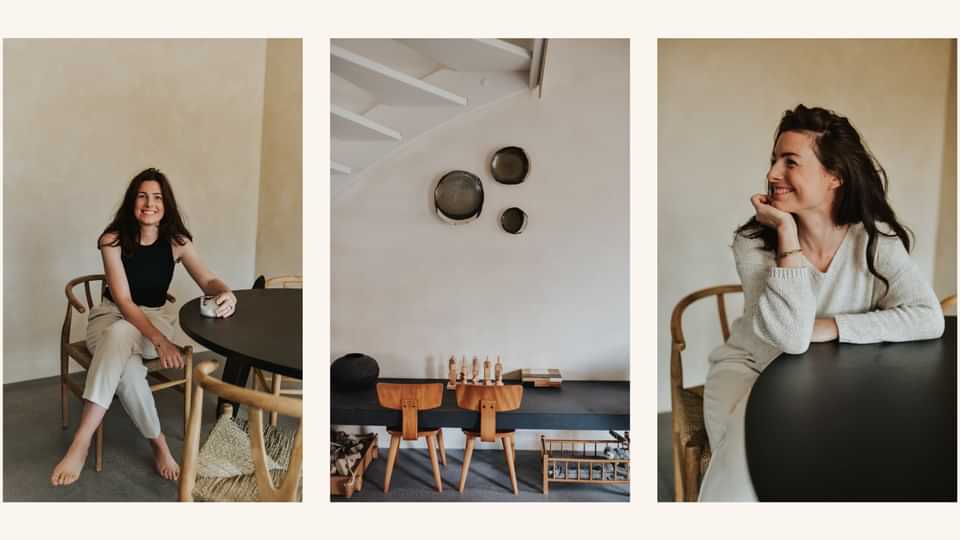 We visited creative soul Edith Beurskens at her dreamy family house. We spoke with Edith about her work, what inspires her the most and her dreams for the future.
My name is Edith Beurskens. I am living with Robert and our daughter Mae Oliva & Robert's son Alfie in Almere Duin, very close to Amsterdam. We moved here just before the Covid19 epidemic started. In my daily life I am a mom most of the time, and besides that I love my work as a freelance graphic designer, interior stylist and 3D art artist. A perfect combination for this moment in my life.
Can you tell us more about your passion for art, interior and illustration and where it all started?
My work as a Graphic designer started at Scotch & Soda in the marketing department. After 3 years, I started as Art Director & Allround creative at Marie-Stella-Maris. I was looking for more freedom and working with more different clients, so I started as a freelancer. My work is mainly focused on Graphic Design and besides that I do the Interior design for Airbnb's, offices, etc.
As a new home came, my workflow changed, and also new creations came to my mind. I started to test a couple of graphics I made with a 3D printer. And I got excited about it. So did people on Instagram, so I thought let's try to make a business out of it. You can design endless sort of shapes and as long as the inspiration floats, this is the perfect overlap of my work as a graphic designer and Interior Designer. Creating my own art has been a dream that became reality. For now I'm mostly working on creating 3D Art prints and besides this (if possible) I keep on doing other assignments for clients.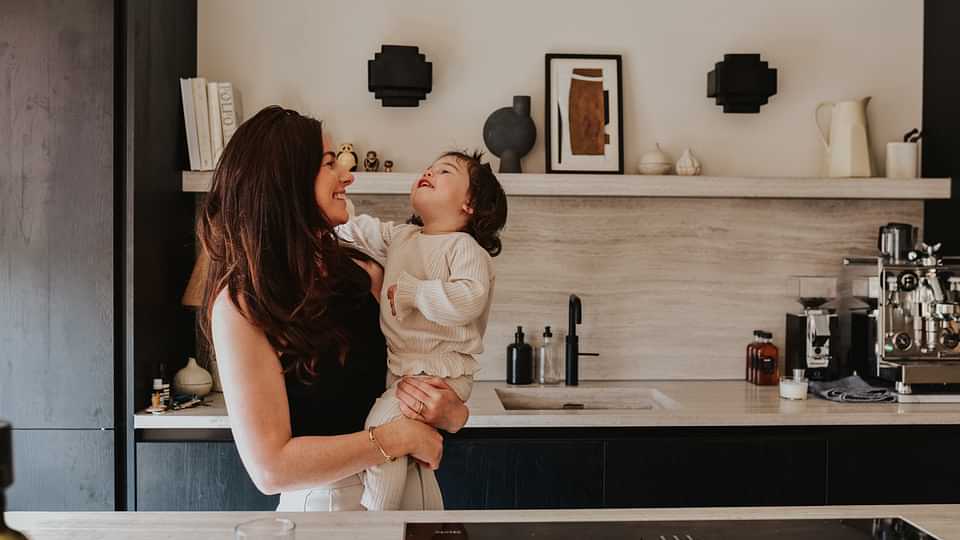 What's your background (studies/ jobs) ?
I studied Fashion Design in Eindhoven and I was working as a stylist in a big fashion store. I lived in Antwerp for a while. I helped out with all the facets of growing and producing a fashion brand. After that I decided to move to Amsterdam and started to study Fashion & Branding at AMFI. I realised working with Adobe programs was one of the things I would like to explore more. So I did a specialisation in Magazine design and so my passion for graphic design came forward. After finishing school I started at Scotch & Soda. I learned so many new things over there. It was the best way to start my career.
Who or what inspired you the most?
A lot of things inspire me. On a daily base the people who are around me full-time inspire me, my family, husband, kids. They are a mirror for me.
Next to that a couple of inspiring friends who are around for years (or shorter) and are also very creative and inspiring souls.
Also books and magazines about Architecture and handcrafts are very inspiring.
Can you tell us a little bit about your work?
At this moment I am mostly focusing on my 3D printed artworks. I started a collaboration with Casa Gitane, they choose a selection of special colours and their favorite 3D shapes, that are only for sale at their showroom and online store. I am really excited about this collaboration, because I am totally in love with everything they design and sell.
The inspiration for my prints comes out of daily and natural shapes and objects. Besides painting I'm always sketching on my computer.
On a regular base I try new things and experiment with forms and colour. For my work in graphic design and interior I have kind of the same process.
The main thing is that I really love what I do.
How would you describe your dream house?
My dream house is a house where I feel at home, where there is space for all of us. To live, to create, to explore, entertain, stay warm, safe and feel welcome.
What are your goals for the future?
Explore life, enjoy life and stay creative. Feel free and love the path I'm walking.
What are you most proud of?
Can you share some images that inspire you?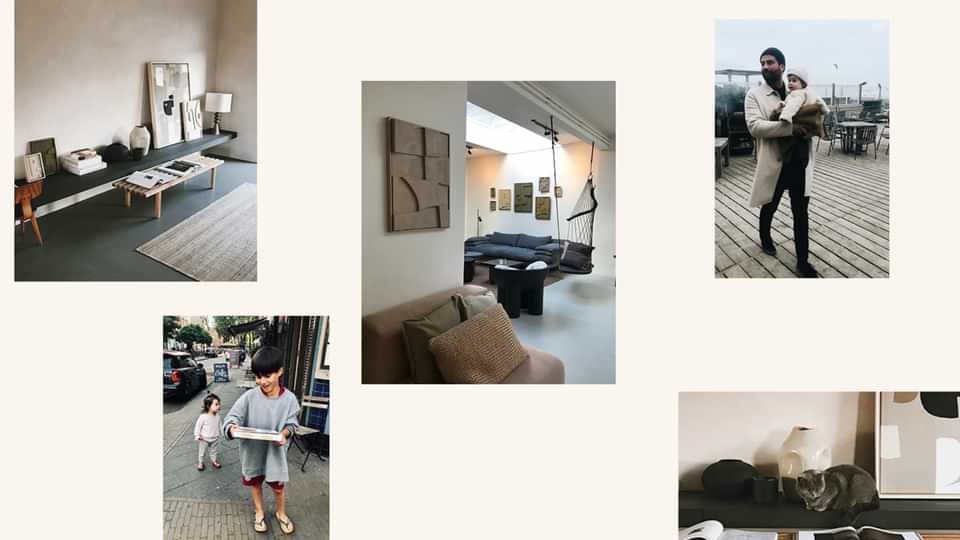 1. Our home, the place where we live. In this picture a part of the living room, where my own made art pieces blend in, with the rest of our interior. This is the place where I am most of the time.
2. Alfie & Mae, Brother & Sister. Always playing together and inspire us every day with their own character. Here we went to our favorite pizza place in de Pijp, de Pizzakamer. Since we don't live in Amsterdam anymore we miss these pizza moments sometimes. But it's a good reason to go to Amsterdam :) We love pizza.


3. My 3D works hanging at the Casa Gitane showroom. A dream to have a collection hanging at such a beautiful place like this.


4. Mae & Robert together. My love, my big inspiration. Always positive, always full power, best dad and my best friend.


5. Our cat Nova, the most cuddling cat in the world ;)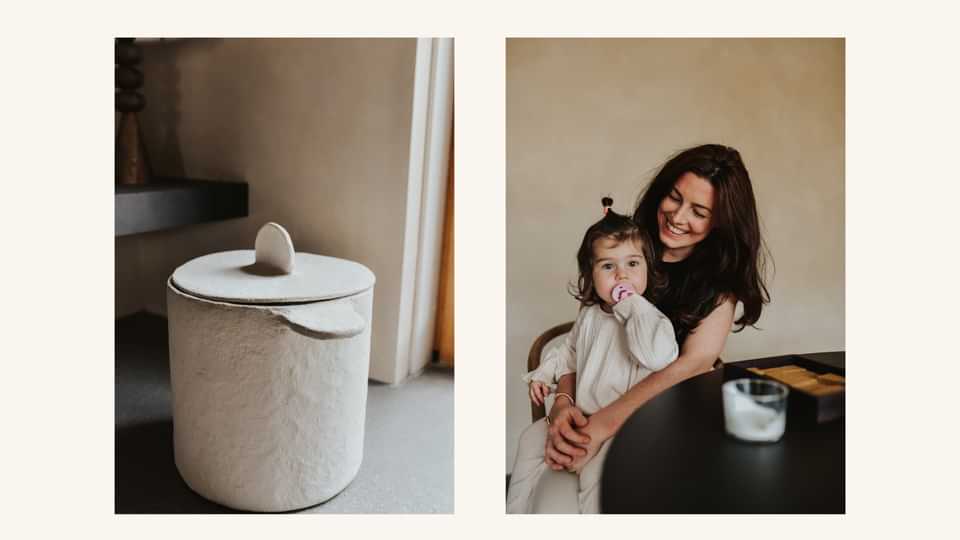 What's your morning ritual?
Cuddling with the kids in bed until the alarm rings. Get up, make breakfast & prepare the lunch box for Alfie. Drinking the best cappuccino made by Robert. Dressing the kids in their jackets and shoes, and bring them to school by car. I do a little cleaning round up, and after that I take a shower. Then, it's time to start my working routine in the atelier.
Favourite lazy Sunday song?
Berimbau - DJ Sandrinho
Just because the kids like it so much, so we have a fun dance in the living room

'Creating my own art has been a dream that became reality'
Any tips on how to decorate your home?
Invest in timeless pieces, discover your own style, and don't follow every trend.
Decorating your home is a process, you collect things, find vintage pieces and get inspired by new things. All in the mix makes your home unique.
How do you combine a stylish home while still being practical for the kids?
I try to place the more fragile objects on a higher level. Just keep it tidy, clean up every day and the kids get used to the stuff that are around them.
Does your home reflect your personality?
Yes, I think it does. I love to keep everything in a place so I know where it is when I look for something. I tidy up every day. For that reason I don't have a lot of loose things laying around. I love a light, natural tone at home. A peaceful place where I can live and also relax.
Name 3 things that annoys you
Mess, grocery shopping, stress, sports and changing diapers.. haha..
'Invest in timeless pieces, discover your own style, and don't follow every trend'
First place you will visit after covid-19?
Italy has always been our favorite place to be.
Good food, swimming in the bluest sea, nice people and good wine.
Do you have anything else you would like to share?