What's that smell? It's our first Bedding & Towel Wash and Softener!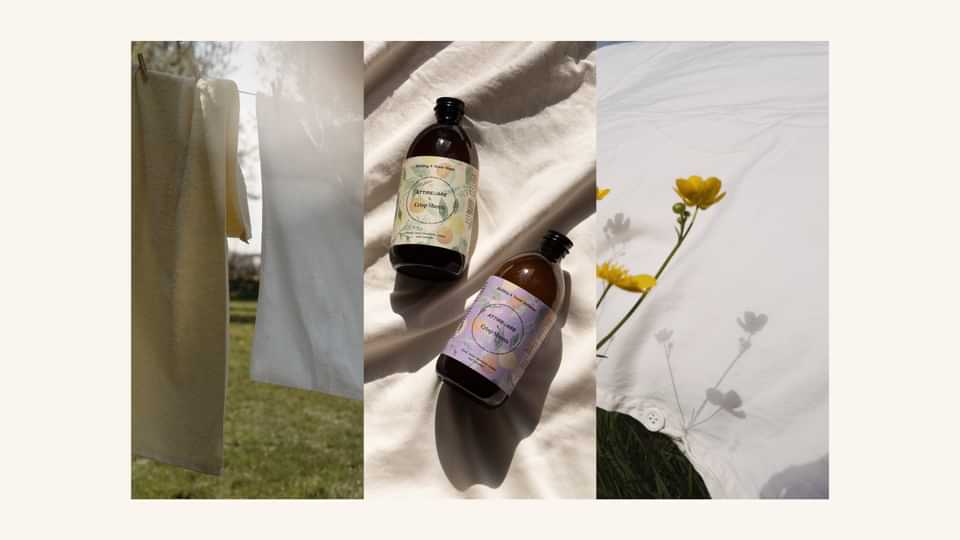 Together with the all natural detergent makers of Attirecare, we have collaborated on a clean and safe formula that contains powerful natural ingredients, leaving your laundry soft and smooth. The ingredients of the aroma are: Neroli, Sweet Mandarin, Lemon and Lavender.
Attirecare is a Manchester-based family business founded and run by Abigail and Seb. They create care products for all aspects of your lifestyle, all under one roof. Their products don't only look great on your shelf, but are also kind to your planet.
What is it like to work together as a duo/couple?
We'd say it's like any other partnership, you have to learn to play to each other's strengths and weaknesses, and be understanding of how different people work in different ways. Mostly though, it's so much fun as we love what we're doing so it doesn't really feel like work!
Our Bedding & Towel Wash and Softener are eco-friendly and biodegradable and the packaging is  made up of a recycled glass bottle. The organic formula is free of harsh chemicals and synthetic fragrances so it will make your bedding and towels last longer!
What do you love most about what you do?
The people we've gotten to meet and build relationships over the last 4 years has been our highlight, and creating beautiful products like these ones. Photoshoot days and travelling are also a great part of the job. We'd do this everyday if we could!
What is your favourite scent of all time?
We're currently working on a new sent that we created during lockdown, which we spent in the Welsh countryside. This is both of our favourite's so far.
What is your morning/evening ritual?
Seb likes to go to the gym in the mornings, and Abi prefers a quieter morning, sipping coffee and prepping for the day. Whenever we are both at home we take our dog Jax to the park before starting work, and this is a little ritual we love! Evenings are a little less structured and it really depends what we have on that day, but we both love cooking so usually involves that.

Although delicate, neroli aroma has a fantastic harmony of floral and citrus. This is enhanced by the very sunny citrus note of the mandarin aroma, which brings a big smile to the fragrance. Whereas lemon makes it smell clean, fresh and sparkling.
Lavender stimulates the production of serotonin, which plays an important role in the regulation of emotions while positively influencing your mood and sleep. It has a calming effect and even reduce anxiety. It is nature's little "chill pill".
If anything and everything would be possible, what is your dream project?
We'd love to open our own store one day, hopefully in the not so distant future!