Men of Crisp Sheets: Matthieu Jansen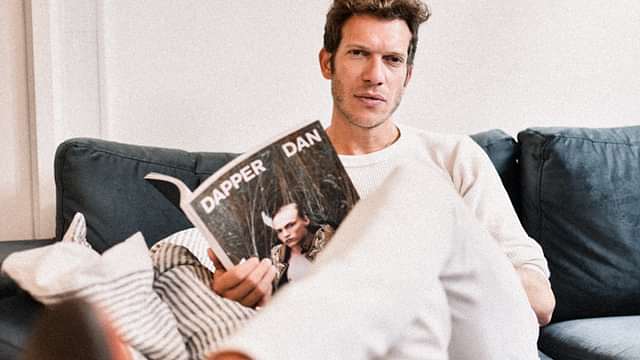 Meet Matthieu Jansen; founder of Le Bonnet and professional model. I met Matthieu years ago at my previous job; he was our fixed model and I was the stylist. We must have done 10 shoots together, if not more. I always loved working with him since he is a good spirited, funny, humble person with the right amount of self mockery. I hope you enjoy our story about our friend Matthieu!
Can you tell us a little bit about yourself?
When I finished my study, I worked as a model for quite some time. Even though I enjoyed this job I thought I was ready to challenge myself a little bit more. After a never-ending search for a good beanie, I decided to give it a try myself. Le Bonnet was then founded almost four years ago. 

How Do you start your day? Do you have a routine?
After I get up, I immediately jump in the shower, then prepare my oatmeal and some fresh ginger tea. Then I leave for work by bike. I have this new thing where I don't use my phone before I arrive at work, something I find very relaxing.
If you can pick anywhere in the world, which view would like to see out of your window?
The view of the sea. Preferably a sea in southern Europe, since the sea has a different color over there. I find it extremely calming and the subtle movement of the sea never gets boring. 
​ What is your relation ship status?
What are some things that annoys you?
Tourists in bike tours
Slow traffic lights
Call centres
Did you ever cry during a movie?
Of course I did, more than once! 'The boy in the striped pyamas' was a movie that touched me a lot. 
I have been sleeping under Crisp Sheets for quite some time now, and I have been hooked since day one, so YEAH I would definitely recommend Crisp Sheets.
Whats your idea of the perfect morning?
On a perfect I wake up in a sunny Amsterdam, when the temperature is around 19 degrees. I love sleeping in during the weekend, get out of bed and do some running in the Vondelpark, then when I get back, have a shower and a full breakfast. 
What do you like most about what you do?
What I like most is the freedom. If you have a sense of freedom in your work, then work it doesn't feel like work anymore. I Also I love the diversity of the job, Le Bonnet works with many different parties whom all need different attention and care. I get to travel quite a bit, and think it is really interesting that we get to work with so many different cultures. 
What are your bad habits?
I can easily over analyze. Sometimes I focus too much on what can go wrong in a situation. I can also leave things to the last minute, which sometimes leads to stressful situations. 

What do you like most about yourself?
I like the fact that I believe in redemption, I try not to hold on to hate.  
What are your top ten places in Amsterdam?
L'affiche
Binnenvisser
Meneer Nieges
Broodje Bert
Cecconi's
Kip van 't Spit
Brandon
Ron Gastrobar